It's been almost 24 hours since my dream of meeting the New Kids on the Block came true. I am still in a state of shock that I just met the NEW KIDS ON THE BLOCK!!!! I hadn't been able to put my experience into words but I think I can finally talk about it now.
I arrived on Tuesday night in LA and met up with a fellow Blockhead. We were the only ones there. Kinda surprised but it took me about 5 hours to realize that my mentality about this event was coming from my experience in New York at the Today Show. I was thinking that we had to be at the beginning of the line to get in but then it hit me: I don't need to be in front. I just need to get in and I'm guaranteed to see them as long as I got a wristband.
We slept in the car Tuesday night and around 4:45 AM, there were some people showing up in cars and parking near us. We were parked in the Best Buy parking lot. We knew they weren't here for the autograph signing because they were all guys. After awhile, we figured out they were Best Buy employees. We were about to go back to sleep until we saw flashlights going into our car and I opened the door. It was a female cop. She asked us what were doing. I said, "Waiting." She said, "For what?" We said "New Kids on the Block." She smiled and said, "You guys big fans?" (No, we're camping out because we hate them! WTF!??!) She asked for our IDs and where we were from and we gave it to her. I said San Francisco. She asked me where do I live now and I said, "San Francisco." And my friend was from Cerritos.
She went to the other cop and told them we were waiting for NKOTB and one of them came a long way, from San Francisco. Then she came back and gave us our IDs back and said that they came to make sure we weren't dead. I thought we were going to get kicked out for loitering but she was cool. She told the Best Buy employees we were alive and we were NKOTB fans and left us alone.
Then we tried to sleep after that but to no avail. It was early in the morning by then and we went to IHOP because we were starving. We ate and went to Target for a little bit. Then went to our motel to see if we could check in. We checked in and tried to sleep. I couldn't sleep much because I was so antsy and I couldn't get Put It On My Tab out of my head. Eventually, we showered and went back to Best Buy. By now, it was around 5 PM. I went in and asked about the event. They said they were letting people line up around 7 PM so we went to Olive Garden for dinner. After dinner, it was around 6:15 so we went back to Best Buy and there was a line. We went in line and stayed there all night.
Met some great fans!! I met Marilou, Maria, Laurina, Stephanie, Kelly, Carrie, Tiffany, Jessi, Katrina, Tricia, Lina, Liz, a girl who gave me some taco bell ( dunno your real name! :( ), and a bunch of others fans I can't think of right now. At night, we hugn out and entertained ourselves by telling stories, reading trading card "facts" and just basically laughing about stories of the guys. It was great to be in a community full of people who "get it." If you're not a fan, it's not even worth explaining because I could explain it in a fat book but you could never really know what I'm talking about.
Anyway, early morning around 3 AM, I went to the car and slept for about 3 hours. Yvonne called me to tell me to come back to the line because there was some drama going down about line jumpers. So I got back in line and tried to read but I never did get past page 12. Still haven't to this moment. Throughout the day, we talked, laughed, and eventually, I got to take a shower and wait for nighttime to come.
They let us in when the store opened at 10 AM to preorder the CD. I asked them what I could do if I didn't live in the area. They told me there was nothing I could do about it except to have someone else pick it up for me. How dumb is that? I'm gonna try to see if I can get it at my local Best Buy. That's another thing they suggest but then they said they doubt they'll do it. After paying, you go to another table and they put a wristband on you and then a laminate around your neck. I had to get a sticker placed on my camera if I wanted to take pictures. Then, I was all set to go.
Around 7 PM, we were all anxious. I was twittering whatever I could because I know it was exciting to hear about what was going on from the boards. ktsummer was twittering the preview party and that was such an exciting day! Every text message I received from 40404, I even pulled over while I was driving to read. Haha!!! By now, I heard the line went around the store and all the way to the back, almost to the loading dock for Best Buy. Around 7:15, we didn't see them still and I had heard that they were here but they entered through an underground parking garage in the back. So the news had travelled all the way to the front of the line.
Around 7:20, Robo came out of Best Buy and told everyone that if they didn't have a wristband, they couldn't take a picture. How sad because earlier, they had supposedly run out of wristbands but I heard there was some guy selling unsnapped wristbands in the back. I dunno what ever happened with that. We kept hearing so many different things it was like playing telephone. We heard they were only signing laminates but I didn't care. I was determined to get my plate signed regardless. At one point, a guy and a girl were yelling at each other in the back. I dunno what that was all about but it reminded me of the Today Show back in May.
Right before we were about to get in, the girls around me were saying that I should ask him to sign it in the heart. That was exactly where I would have wanted him to sign it. I was so nervous that I started hugging some Blockheads around me to keep me sane. I was hyperventilating. Finally, around 8 PM, I got to go in. There were so many people in there! Best Buy employees, security, shoppers, media, it was madness!! I tried to take a video but there were so many people blocking the way. They told me I had to givev my camera to a Best buy employee to take my pictures but I didn't want to but they took it. Punks. They took some crappy ass pictures. When Jon held my plate, he's like, "Is this for real?" And he didn't know where to sign so I told him sign wherever, I didn't care. Jordan took it and he didn't know if it was real neither. He signed it and showed it to Joe who held onto it the longest. The security people were pushing me by so fast that I couldn't keep up with my plate.
Joe asked me if I was going to put this in the front of the car and I said no. I told him I was going to keep that with me in a box or something. I also told him what kinda car it was on too. Then I got to Donnie but Danny was barely signing my plate. I said hi to both of them and after Danny signed it, Donnie got it and he looked up at me and smiled. I asked him if I could hug him and he said yes. He got up a little bit and hugged me. I was in heaven. As I was being pushed out by security, Donnie said "I signed it in the heart" and I thank him. How did he know? There were so many things I wanted to say but couldn't and that was the one thing I regret. Oh well, guess I'll have to wait until October.
Overall, I would have to say that this was an experience I would never trade anything for. Someone offered me $100 for my wristband. Of course I said no. A NKOTB experience is indeed priceless. During the whole time I was waiting, I kept thinking about what I wanted to say to them but no matter how many times I rehearsed it, memorized it, envisioned it, I learned that nothing can prepare me for any experience like that. I became speechless as I stood in front of the 5 guys who raised me and made me who I am. It was surreal.
If I could do this all over, what would I change? Well, instead of rehearsing over and over what I wanted to say to each guy, I would've taken notes on my hand to keep my grounded & focused. So, for any fans who will meet them in the future, that's my advice if you're going to act like me. You just never know when you're going to be starstruck.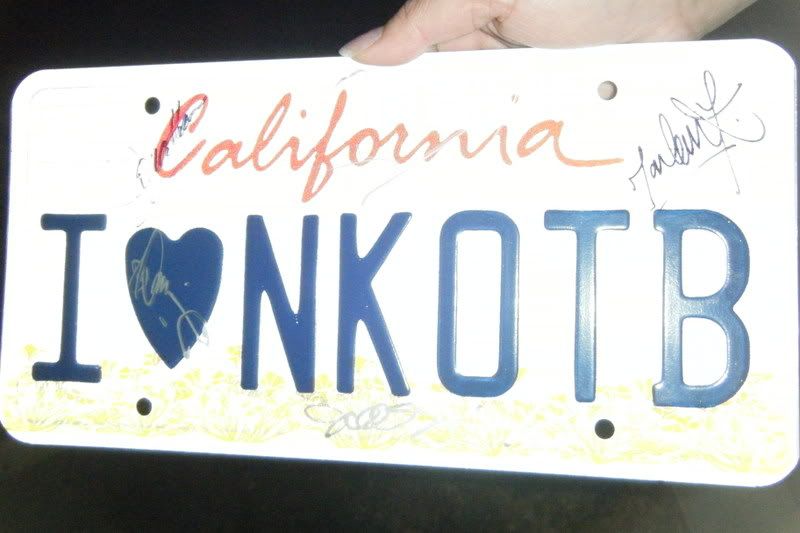 By the way, I LOVE this song!! "Big Girl Now" by New Kids on the Block ft. Lady GaGa